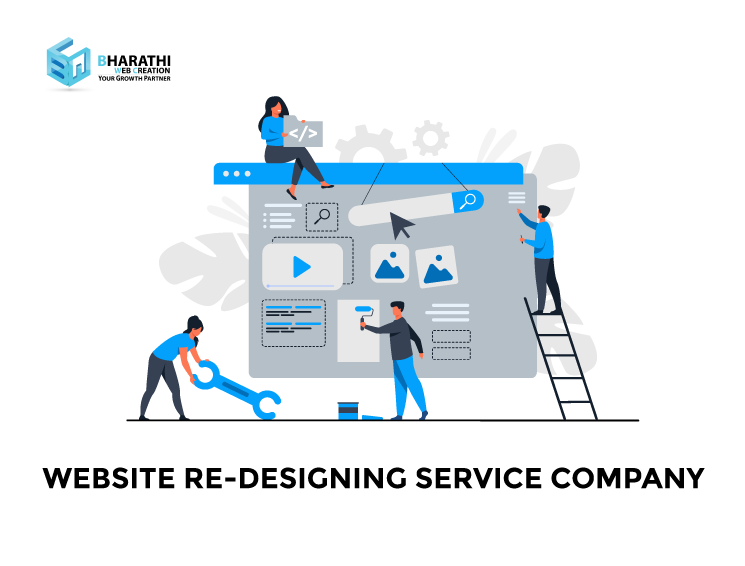 Web Designing
Website Re-Designing Service
The website site upgrade is a definite cycle of patching up your website, which incorporates refreshing content, reviving designs, and improving routes for better transformations and website performance. Your site is the essence of your business and structures the establishment of your advanced personality. A site comprises of two sections the backend and the frontend. A website update is overhauling any either of these two sections the backend and the frontend.
Website re-design is an advertising technique to change the view of an association for business reasons. It helps the organization to stand apart, among a pool of contenders. Website re-design gets required in specific conditions like consolidations or mergers for instance.
Reason for website re-design:
Quicken development
Restore lost brand character
Update an obsolete site
Set up a remarkable brand voice
Oblige for new or corrected items and administrations
Bharathi Web Creation, as a solid web creation company in Chennai, we offer you the best re-design feature as a web-based business development service at sensible costs.
Why Choose Bharathi Web Creation? For Your Website re-design?
Bharathi Web Creation, We offer the best quality and assistance in re-design web design in Chennai. We strive to make re-design websites that become a significant resource for your organization in driving business, profit, and benefit.
We are dedicated to providing the best, top-notch web design that is affordable compared to all our competitors. We provide you with excellent output, value for money, and a pleasant experience with a long-lasting relationship with our valued company.
We Are Bharathi Web Creation!! You're Growth Partner.